SPECIAL ISSUE – OPEN CALL on INBODIED INTERACTION –
we'll be hosting associated WoodSheds all fall 2021 for contributing authors to meet up, share ideas, drafts, collaborations. Join Us!
we're building a community together
Our vision: help #makeNormalBetter for all @scale 
Our mission: to explore, develop, research, innovate, question how interactive technologies and services can be co-designed/tested to support that mission. 
Our approach is: Inbodied Interaction to support TUNING one's self to feel, perform, be fantastic – life-long. 
We are also Hiring Research Fellows (Post Docs) to work with us – email wellth@nopain2.org if you're an Computer Science, Engineering, HCI researcher who wants to design digital interactive tech with Inbodied Interaction Approaches to help make normal better.
Inbodied Interaction proposes that if we align our tools with how we work, inside our bodied, as phyiological, neurological (and social) complex systems our tools will have a much better opportunitiy for success.
New Inbododied Interaction Methods Paper: presenting the Experiment in a box ( XB) approach – for health resilience interactive technologies.
Tuning is proposed as a True North for evaluating these designs: do they help people TUNE what they are already doing to support personal, social, physical, mental, cognitive good, or wellbeing or performance – and remain healthy. A particular aspiration is to help build resiliance by supporting the Knowledge Skills and Practice to be able to TUNE oneself within a given context.
For example: what tools might we develop that can help people doing chronic shift work? that by an understanding of circadian processes in the body, can help them keep their body clocks and daylight clocks aligned to support health?
Another Example: Ahead of the COVID19 push to more and more people conencting with each other online, PhD candidate Ben Brooks, and an advanced HCI course in Human-Systems Interaction at the U of Southampton, have been taking an Inbodied Interaction approach to make online experiences better for virtual teams. They are exploring how what we know about our physiology in social interactions might be better supported in virtual contexts. 
INVITATION: JOIN US The WellthLab is itself a hybrid of physical meetings and international ongoing virtual collaborations, including UCSD, UNB, IBM, MIT.  The Lab was started in 2016 and is lead by m.c. schraefel.
Please email wellthlab@nopain2.org if you are an HCI researcher and have a collaboration idea you'd like to explore in designing interactive tech from an inbodied perspective to help #makeNormalBetter for all @scale.
We are also hiring for post docs – keenly interested in computer science PhD's who are passionate about innovating new tools/approaches to support people explore themselves, build new skills, and feel fantastic in a challenging world.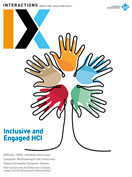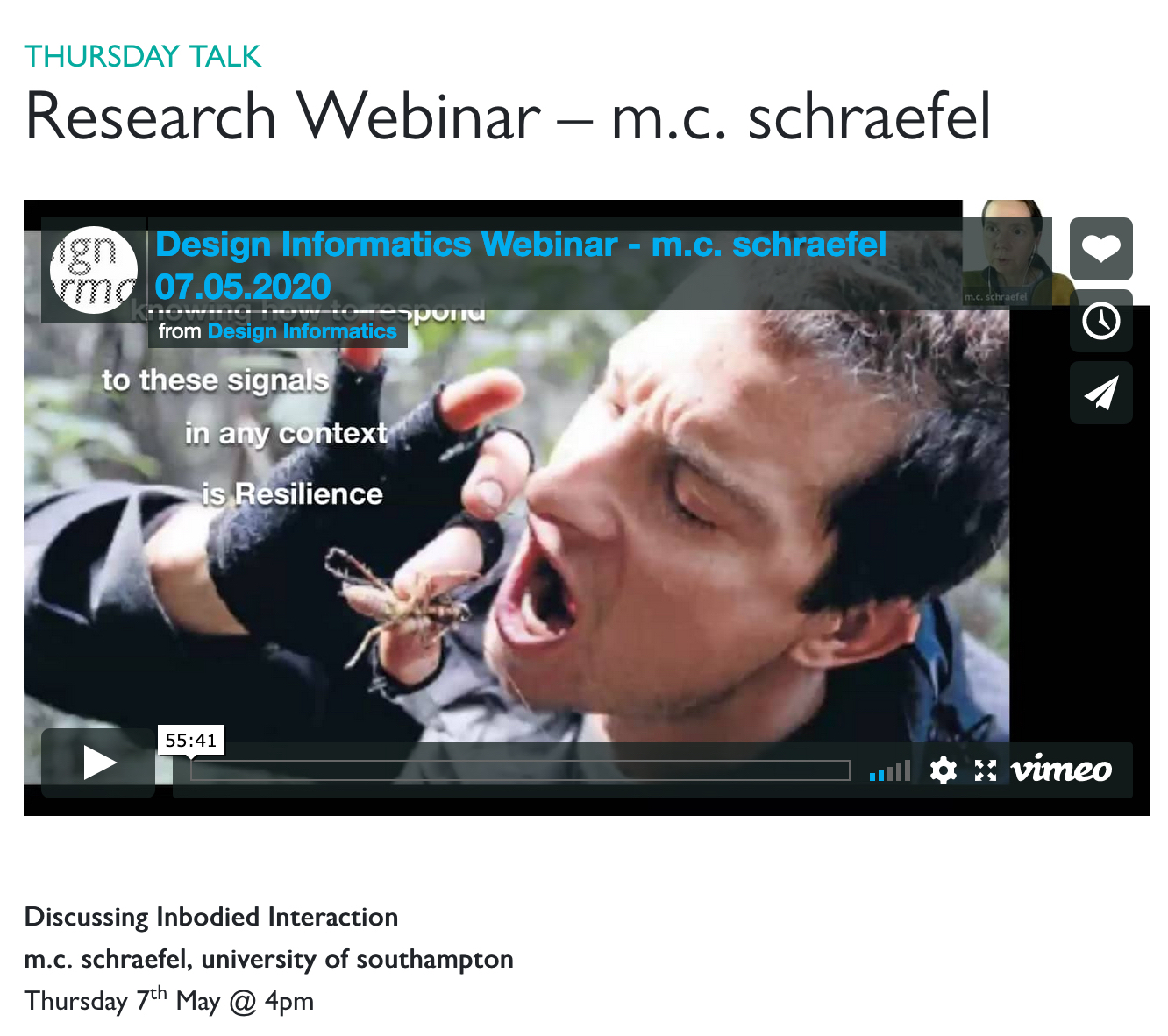 Also - here's a seminar that's half OVERVIEW of Inbodied Interaction half salon/discussion online. Thanks to Chris Speed and the Design Informatics Group for this great meeting. <

RELATED ACTIVITIES: